Bitcoin's Bear Market Is Ending
Bitcoin has fallen by about half since its high earlier this year. That's not pretty, but signs are emerging that the selling is likely nearing its end.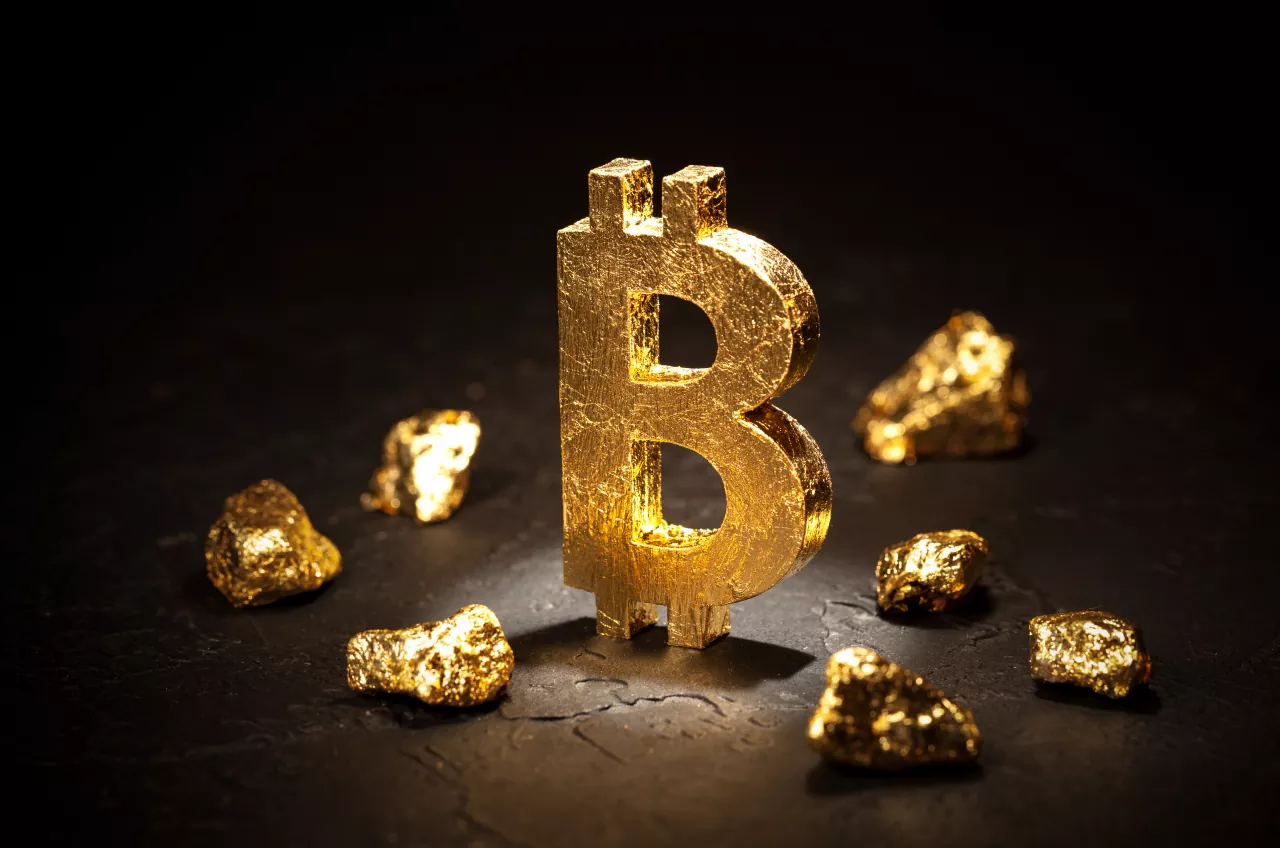 Investors in cryptocurrencies have been on a wild ride in the past few months, to say the least. The space has seen enormous swings in value based upon risk-on or risk-off appetites that prevail from moment to moment, and news items tend to be a big risk for cryptos as well.
This is true perhaps more than any other for crypto OG Bitcoin (BTC-USD), which we can see below. While I'm not here to debate the future usefulness of Bitcoin as an actual currency long term, I do think there is a bottoming process taking place that likely isn't that far from completion. And given that, whether you think Bitcoin will eventually become a viable alternative to fiat currencies isn't really relevant, at least not anytime soon. I believe crypto faithful and those just looking to make a buck can both ride Bitcoin through the next upleg.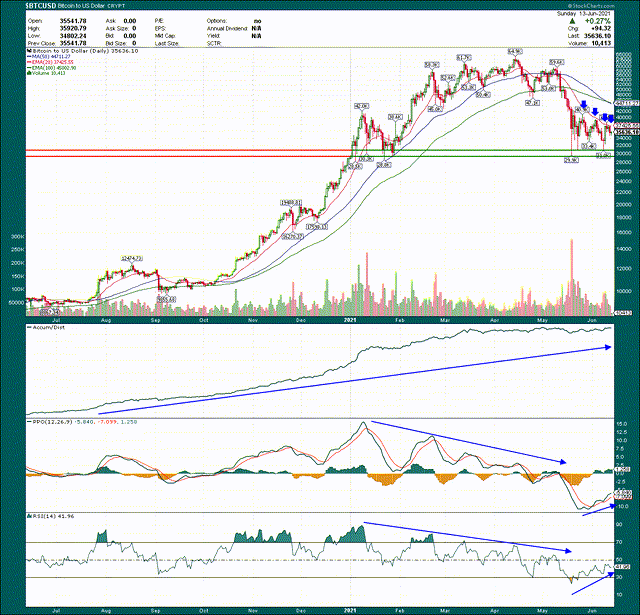 Source: StockCharts
The one-year chart above shows a meteoric rise in Bitcoin from under $10k to nearly $65k in the space of a few months. Just about any crypto you can think of saw a massive move during the September to April period (give or take), but Bitcoin is obviously the dominant player in cryptos, so it gets the headlines. Sixty-five thousand dollars per unit will garner some attention as well, just simply based upon the value of it.
However, since hitting the all-time high in April, Bitcoin has been in a very nasty bear market that persists today. The crypto fell by over half at the low set a few weeks ago, and remains a very long way from its previous highs. However, I see a bottoming process taking place on the daily chart that makes me think the time to get long Bitcoin is very close at hand.
First, the $29k/$30k level has held as support more than once, indicating that buyers will step in on any further declines to that level. I don't know if we see $30k again, but if we do, I'm a buyer.
Second, the accumulation/distribution remains rock-solid, having risen very steadily over the past year as buyers pick up Bitcoin on dips. This is not foolproof by any means, but a strong A/D line is key for bullish moves because otherwise, sellers are out in force on rallies, which makes further rallying very difficult.
Third, the PPO and 14-day RSI are both showing strong positive divergences to price in the past couple of weeks. Both are still nowhere near bullish levels, so don't mistake my meaning. However, there is a very clear upturn in bullish momentum despite price action remaining weak. Taken with the A/D line and price support near to the current price, I think Bitcoin has seen most of the decline it is going to see, and that the bottoming process is well underway.
Now, that doesn't mean the coin is out of the woods. For one thing, if you look at the moving averages in the chart, they're all still very negatively sloped. The good news is that the best indicator of a new uptrend I've found is when a security moves above its 20-day exponential moving average, and then manages at least two closes above. That is when the 20-day EMA begins to turn higher, and that is confirmation a new upleg has likely started.
Bitcoin's 20-day EMA is still negatively sloped, and will be for likely another couple of weeks, pending what happens with price. But with it coming down from $37k today and into the mid-$30k area rather soon, I think the odds of a breakout over the 20-day EMA are rapidly improving, which would be a feather in the cap of the bulls.
However, I've also annotated four places on the chart in recent weeks where the 20-day EMA has proven to be a brick wall for the bulls. This is not unusual by any means, as a declining 20-day EMA often acts as resistance during downtrends. This is normal behavior for a down-trending security, so don't read too much into it in terms of longer-term impacts. However, until the 20-day EMA stops being resistant and begins to be supported, Bitcoin isn't going anywhere.
So, to sum up, the daily chart, we need to see the 20-day EMA flatten out, see Bitcoin trade above it, and then see the 20-day EMA begin to move higher to serve as support rather than resistance. With the positive momentum divergences in play, as well as strong price support at ~$30k, I see this happening sooner than later.
Now, let's take a look at a longer-term view with the three-year weekly chart.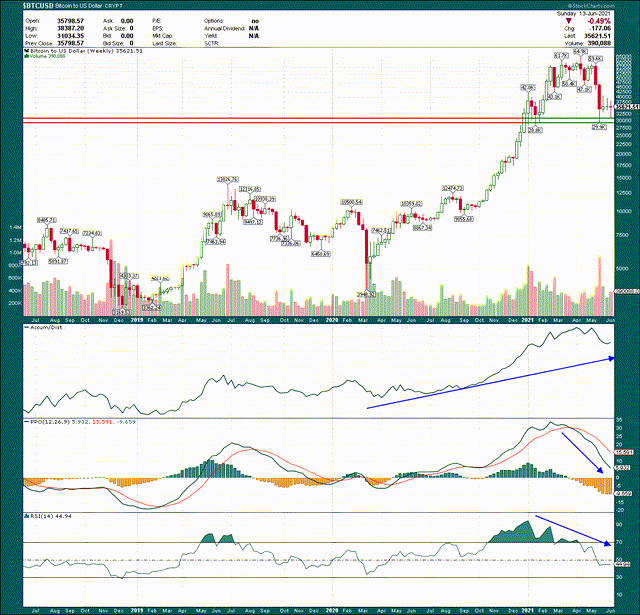 Source: StockCharts
We can see the same support level near $30k, but the other indicators are different in important ways. First, the accumulation/distribution line has come off of its highs slightly during the pullback. That's not a bullish sign, but the line itself remains very high. So while nowhere near as bullish as the daily value, the weekly A/D line is still leaning bullish.
Second, the momentum divergences we saw on the daily chart are nowhere to be found here. We can see that the 14-week RSI rolled over before the PPO did, indicating that the rally was weakening before price actually rolled over. The good news is that both are showing signs that the selling pressure is weakening, which bolsters the idea that Bitcoin's decline is likely nearing its end.
The PPO rolled over with a sell signal (blue line crossing over red line) back in March, just before the actual top was made. It was in very overbought territory at the time, but has moved back towards centerline support. This is typical behavior after a massive up move, so the fact that the PPO is returning to the centerline is a good thing, not a bearish development. It means gains are being digested and that the bulls can now reset for another push higher.
The story is similar with the 14-week RSI, so I won't repeat the same thing. But the momentum picture has improved massively since the selling began.
To sum up my thoughts on Bitcoin's chart, I see positive divergences happening at the daily chart level, with the weekly chart showing some signs that the selling is abating. To be clear, I'm not saying Bitcoin has bottomed and will shoot higher starting tomorrow. But what I am saying is that if you want to own Bitcoin, I think the window for buying it before the next upleg is closing fairly rapidly.
Declining rates support risk-on assets
A big part of the reason we saw a risk-off behavior earlier this year is because interest rates moved significantly higher very quickly on inflation fears. Those fears have proven somewhat unfounded in the time since, as we can see from the chart below, and I think that bolters the case for Bitcoin and other risk-on securities.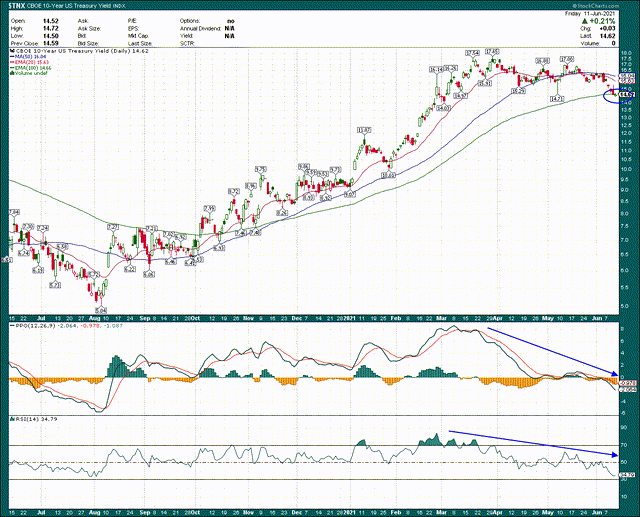 Source: StockCharts
We can see the 10-year topped out in the 1.75% area in March and hasn't looked back since. The move has been accompanied by a huge reset in momentum as seen in the PPO, but unlike Bitcoin, the 10-year's PPO move has gone solidly negative. That indicates that the move in rates – in my view – isn't done and that we'll continue to see lower rates after a too far, too fast move earlier this year. That's great news for any risk-on assets, which Bitcoin certainly is. Others include growth stocks, particularly those in technology, and this is a poor development for defensive stocks.
If we zoom out to the weekly chart, I see yet further evidence that interest rate declines are coming, and that risk-on is the place to be.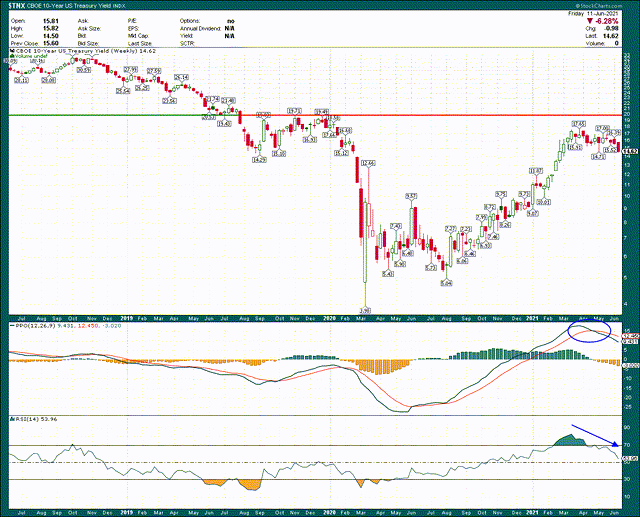 Source: StockCharts
The 10-year didn't get all that close to prior highs at ~1.95%, and weekly momentum is still rapidly declining, not flattening out like Bitcoin's. So again, the path of least resistance for rates is lower until further notice, which means risk-on assets like Bitcoin should do well.
Other considerations
Apart from rates supporting risk-on securities, Bitcoin continues to gain adoption around the world as an actual alternative to fiat currencies. As I said in the open, whether this happens or not is of no consequence to me; I just see a chart I want to buy. But it does matter for the news cycle of Bitcoin, which can drive and impact price. For that reason, I pay attention.
The good news is that Bitcoin's recent news cycle has been tilting bullish. El Salvador has made Bitcoin legal tender, which is an enormous shift forward for cryptos in general, as a government has said Bitcoin can work as currency. Institutional buyers are out in force, with big names like MicroStrategy (MSTR) and Tesla (TSLA) publicly disclosing large stakes in Bitcoin. The former seems to have sort of forgotten about its software business and appears to be trying to become a Bitcoin fund, but I digress.
News for Bitcoin isn't all positive, however, as geopolitical risk is always present. China's Qinghai province shut down mining just a couple of days ago, in yet another reminder that cryptos are still not accepted around the world, and volatility will remain constant. The thing is that this has always been the case and unless/until Bitcoin does become a widely accepted alternative to fiat currencies, it almost certainly always will be. That's something you have to be okay with if you're going to trade cryptos.
Final thoughts
But if you can shake off the inherent volatility of owning Bitcoin, I see a new bull run beginning soon. Things to look for include a flattening – and eventually rising – 20-day EMA, and we need to see Bitcoin move above the line, and stay there. I think price will hold at ~$30k and that we won't see another low, but if we do move below $30k, we'll have to reassess. Finally, if momentum divergences turn over and go negative again, that will cause another rethink, but this would almost certainly accompany a price move below $30k anyway given where Bitcoin is trading.
The bottom line is that I think the bear market for Bitcoin is ending, and that if you want to buy the crypto, your window to do so at the best price is rapidly closing.
Disclaimer: Opinions expressed in Altimates are not intended to be a forecast of future events, a guarantee of future results, and investment advice. All investing is subject to risk, including the possible loss of the money you invest. Please do not invest in cryptocurrency without understanding its fundamentals.